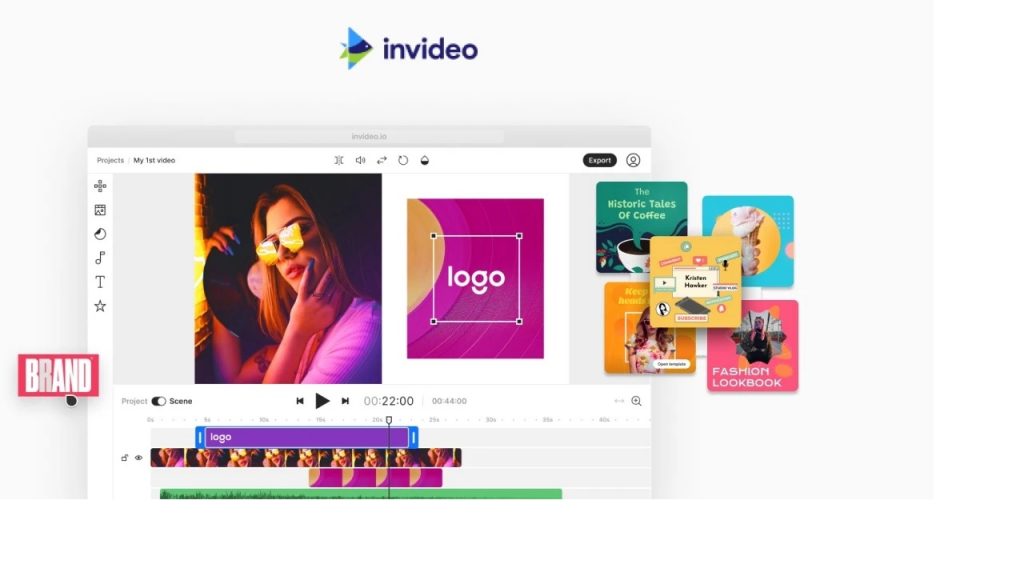 InVideo is a versatile video creation platform that empowers users to create professional-quality videos for various purposes. It offers a wide range of features and tools to simplify the video editing process and produce engaging content.
InVideo offers both free and paid plans, with the paid plans providing additional features and access to premium resources. The platform caters to individuals, businesses, marketers, and content creators who want to create impactful videos without extensive video editing experience.
To use InVideo, follow these general steps:
Choose a Template: Once you're logged in, you'll be presented with a range of video templates. Browse through the available options and select a template that suits your video's purpose and style.
Add Media: To add your own media, such as images, videos, and audio files, click on the "Media" tab in the left sidebar. You can either upload your own files or browse through InVideo's media library to find suitable assets.
Edit Text and Graphics: Click on the text or graphics elements in the template to edit them. You can change the text, font, color, size, and position to match your video's message and branding. Some templates may also allow you to add additional text or graphics elements.
Adjust Timings: Fine-tune the timing of your video by adjusting the duration of each scene or element on the timeline. This allows you to control the pacing and flow of your video.
Preview and Finalize: Once you've made all the necessary edits, preview your video to ensure everything looks and sounds as intended. Make any additional adjustments if needed.

InVideo Customer Services
InVideo offers customer services to assist users with their inquiries, technical support, and other assistance they may need. Here are some of the customer service options provided by InVideo:
Knowledge Base: InVideo has a comprehensive knowledge base that contains articles, guides, and tutorials to help users learn how to use the platform effectively. The knowledge base covers various topics, including getting started, editing techniques, troubleshooting, and more. You can access the knowledge base through the InVideo website.
Video Tutorials: InVideo offers a collection of video tutorials that cover various aspects of using the platform. These tutorials provide step-by-step instructions on different features and functionalities, helping users understand how to create and edit videos effectively. The video tutorials can be accessed through the InVideo website or their official YouTube channel.
Community and Forum: InVideo has an active online community and forum where users can engage with each other, share tips and tricks, ask questions, and provide support. The community is a great resource for learning from other users' experiences and finding answers to common queries. You can join the InVideo community through the designated platform or forum.
Benefits, Features And Advantages Of InVideo
InVideo offers several benefits, features, and advantages that make it a popular choice for video creation. Here are some of the key benefits and features of InVideo:
Benefits:
User-Friendly Interface: InVideo provides a user-friendly interface that is intuitive and easy to navigate. Even users without extensive video editing experience can quickly grasp the platform and start creating videos.
Intelligent Automation: InVideo leverages AI technology to automate certain aspects of video creation. The platform analyzes your content and suggests appropriate design elements, transitions, and animations, making it easier to create professional-looking videos efficiently.
Text-to-Speech Feature: InVideo offers a text-to-speech feature that can convert your written script into voiceover narration. This feature saves time and effort in recording voiceovers and ensures consistent audio quality throughout your videos.
Features:
Drag-and-Drop Editor: InVideo provides a drag-and-drop editor that simplifies the video editing process. You can easily add and arrange elements on the timeline, adjust durations, apply effects, and make other edits with simple drag-and-drop actions.
Text and Graphics Customization: InVideo allows you to customize text and graphics elements in your videos. You can change fonts, colors, sizes, positions, and other properties to match your branding and desired visual style.
Editing Tools: The platform offers a range of editing tools to fine-tune your videos. You can trim and crop video clips, add transitions, apply effects and filters, adjust audio levels, and more, giving you full control over the look and feel of your videos.
Publishing and Sharing Options: InVideo provides various options for publishing and sharing your videos. You can directly publish your videos to platforms like YouTube, Facebook, and Instagram, or download them in different formats and resolutions for offline use or distribution through other channels.
Advantages:
Time-Saving: InVideo's templates, automation features, and intuitive interface help save time in the video creation process. You can quickly create professional-looking videos without the need for extensive editing skills or starting from scratch.
Cost-Effective: InVideo offers a range of pricing plans, including a free option, making it accessible to users with different budgets. The platform's extensive media library also reduces the need for expensive external resources, saving costs on stock photos, videos, and music tracks.
Ease of Collaboration: InVideo's collaboration features streamline teamwork, allowing multiple users to work on video projects together. This promotes efficient collaboration and ensures that everyone involved can contribute to the project seamlessly.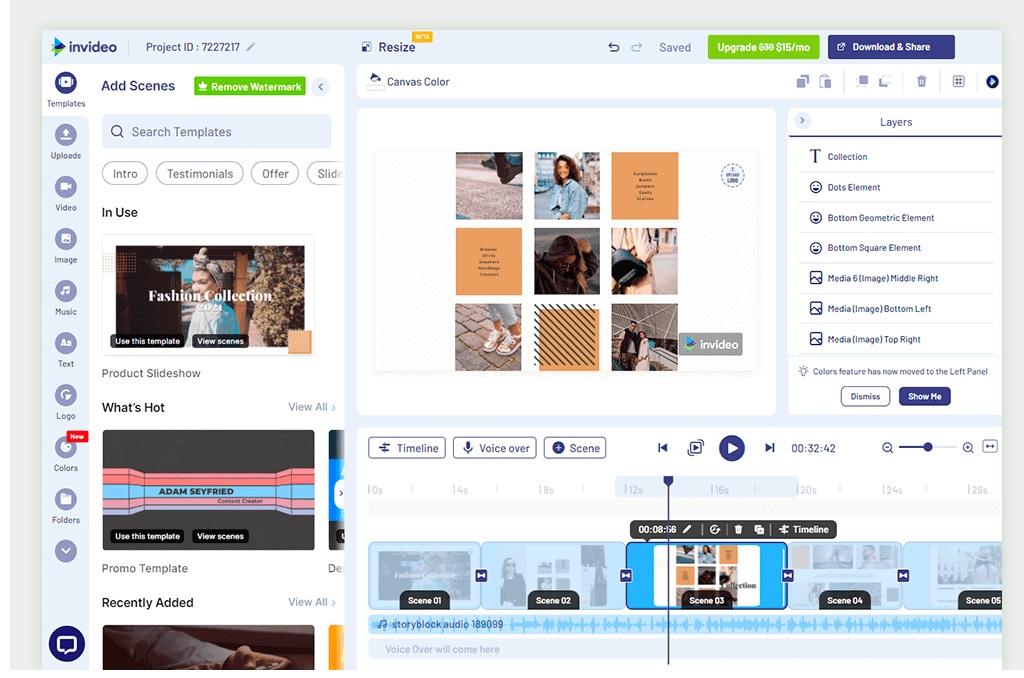 InVideo offers a wide range of customizable templates and editing tools to create professional-quality videos easily.
It has an extensive library of royalty-free images, music, and video clips that users can use in their creations.
The platform saves time by automating parts of the editing process and allowing users to batch produce videos at once.
InVideo provides excellent customer support through live chat, email, and phone.
InVideo is a powerful and user-friendly video creation platform that offers a wide range of features, benefits, and advantages. Whether you're an individual, marketer, or business, InVideo provides the tools and resources you need to create professional-quality videos for various purposes.
InVideo's extensive media library, including stock photos, videos, and music tracks, provides a wide range of resources to enhance your videos without the need for external sources. This helps save costs and ensures that you have access to visually appealing content.